New Members Elected to Board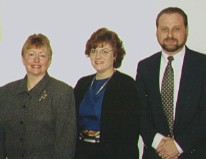 The Moberly Regional Health Foundation has announced the appointment of three new members to the board of directors. New to the board are (pictured, l-r) Linda Mustoe, Vice-President, Assistant General Counsel and Senior Risk Manager for Orscheln Management Co. She and her husband, Launce, and their two sons, Trae and Nicholas, have lived in Moberly since 1981. Linda is serving on the board because she believes that responding to health care needs within our community is a vital mission that enriches the quality of life and significantly impacts economic, academic, and cultural well-being of our families, neighbors and everyone in our community. Lori Miller, President of Precision Printing, Inc. She and her husband, Roy and their children Wynter, and Aaron have lived in Moberly all their lives. Lori is serving on the board as a way of volunteering to help others in the community who don't have the same resources she is fortunate enough to possess. John Ross, Moberly Area Community College, Dean of Vocational/Techical Education. He and his wife, Teresa have three children Johanna, John Robert, and Rick. They have recently moved to Moberly and are adjusting very well. John is joining the board because he has always had a strong interest in health care and would like to use his many strengths and talents in making a difference.



They join Howard Fleming, Board President, Helen Johnson, Vice-President, and Tim Jeffries, who comprise the executive board. Other board members (pictured below from left to right) are Brian Burns, J. Will Fleming, Dan McKay, Dennis McKeown, Bill Reid, Sr., Karl Rice, Mike Riffel, Vicki Sheldon, Robert Tompson, Lori Turk, John Weant, and Alan Weaver.











---
Scholarship Applications Being Accepted
The Moberly Regional Health Foundation is pleased to serve as a Foundation which
encourages and funds educational health care opportunities. Because of this commitment, the Foundation Board of Directors has designated $10,000 in scholarship assistance for 2000. Applications are now being taken for scholarships for the upcoming school year. The high schools in Randolph County have applications on file. There is also a general scholarship for those who are not graduating high school seniors.
In addition, there are scholarship funds for the Will Ben Sims Memorial Scholarship.
Those applications may be picked up at City Bank or the Little Dixie Regional Library in Moberly or at the Chariton County Bank in Brunswick. The deadline for these scholarships is March 31, 2000.
The Foundation will also continue to fund three Nursing Scholarships for the Moberly Area Community College nursing students. The deadline is February 25, 2000.
2000 Guidelines for Grant Seekers from the Moberly Regional Health Foundation
These guidelines are quite simple. You must be a not-for-profit organization, whose
request is health care related or have an unmet need. Submit a letter to the board of directors with your request of funds. These guidelines are just one way we do things to be more effective without losing the best qualities of what we do. Our board and staff have taken a close look at every aspect of our organization to identify ways we could make the Health Foundation's leadership role clearer and more effective in the community.
---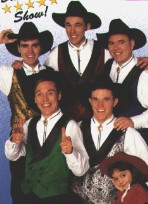 Branson's Only 5 Star Show Scheduled to perform in Moberly
The Hughes Brothers featuring Little Miss Kristina Marie.
The Hughs Brothers bring great family entertainment to Moberly. They wow their audiences with their extraordinary harmonies, energetic dancing, instrumental abilities and hilarious antics. On top of that they showcase everything from Contemporary Country, Old Western, Classics, Gospel and even Broadway. People aren't just entertained, they come away feeling charged and uplifted. The show will be held at the MACC Activity Center on March 8 at 7:00 p.m. Tickets can be purchased for $10.00/Adult and $8.00/12 and under. Doors will open at 6:00 p.m. This two hour show will have a fifteen minute intermission so you can enjoy a full concession that will be made available. The Title Sponsor for this event is Moberly Regional Medical Center with the proceeds helping the Moberly Regional Health Foundation address health care and related issues in the community. Check out our web-site for more information: www.moberlymo.com/foundation.
---
From the Foundation Office
Mission Statement
Moberly Regional Health Foundation is a philanthropic organization, dedicated to addressing the health care needs of the area by being responsive to a broad range of health care and related needs.
Our success in following the foundations Mission Statement depends to a large extent, on support from our donors. I want to thank our loyal friends who have contributed so generously in 1999. Your gifts make a difference in the continuing success of the Health Foundation. Thank you.
With Sincere appreciation,

Karen D. Wright
1999 Honor Roll of Donors
The Moberly Regional Health Foundation is grateful for the support of all our donors who have helped us achieve a successful year of giving. It is with our deepest appreciation that we recognize the generous support of friends, businesses, foundations, organizations and corporations who supported the foundation during the past calendar year. Your gifts truly make a difference in our ability to address health care and related needs in our community.
VISIONARY
(Gifts of $5,000 & over)
Anonymous
Moberly Regional Medical Center
Orscheln Industries Foundation
CENTURION
(Gifts of $1,000-$4,999)
Charles & Jennifer Fleming
David & Carolyn Fleming
Howard & Sara Fleming
Wal-Mart Foundation
PATRON
(Gifts of $500-$999)
Coach Light
Commerce Bank
Mid-Am Building Support, Inc.
Linda Mustoe
SPONSOR
(Gifts of $250-$499)
Mona Afrassiab, DO
Bank of Cairo & Moberly
Joel Bautista, MD
Michael Berry, DDS
Jack Childress, MD
Dura Automotive Systems
Randy Foster, DO
Tim Jeffries, CPA
C.H. Lin, MD
Dan Menze, DDS
Barry Orscheln
Phil Stitzer, DO
Jeffrey Turk, MD
Thomas Turnbaugh, MD
Alan Weaver, DO
GOLD BUILDER
(Gifts of $100-$249)
Buntin's Pharmacy
Century 21 McKeown & Associates, Inc
City Bank.
Copelco Capital, Inc.
Lon & Joann Cooksey
Dura
Carol Eckhardt
J. Will & Mary Louise Fleming
Fusselman Salvage Company
Winston Harrison, MD
Homer & Helen Johnson
Jackson Brothers Food Service
Kentucky Fried Chicken
Kiwanis of Moberly
Midwest Linen & Towel Service Inc.
Moberly Area Vocational Technical School
Dr. & Mrs. Robert Mueller
Orscheln Co.
Randolph County Board of Realtors
Bill Reid Sr.
Rice Appraisal Service
Dr. & Mrs. Robert Tompson
Virginia Westlake
Westlake ACE Hardware
XI Epsilon Chapter
BRONZE BUILDER
(Gifts of $50-$99)
A.G. Edwards - Jerry Jeffrey
Allegiance Health Care
American Family Insurance - Brad Keller
Bank Midwest
Cater Funeral Home
Central Christian College Bible
Chariton Valley Wireless
Columiba College
Crown Press
Dolphin Capitol, Inc.
Family Life Fellowship
GE Capital
Carolee Hazlet
Heartland
Home Medical Equipment
JC Penney
David & Debbie Koehly
Macon Building & Loan
McKenzies
Moberly Eye Center
Salvation Army
Sears
Sonic
United Credit Union
Dr. & Mrs. T.J. Vogelweid
P.K. Weis
FRIENDS
(Gifts below $49)
Advantage Real Estate
Mr. & Mrs. William Alexander
Ameren UE
Burtons Rexall Drug
Four Acres Nursery
Mr. & Mrs. James Grant
Lonnie & Beverly Holder
Huntsville Bus/Pro Women
Image Makers
Martin Kehoe
Moberly Bus/Pro Women
Moberly Correctional Center
Moberly Housing Authority
Moberly Jaycees
Moberly Lions Club
North Village
Norma Prange
Pringers IGA
William Ramlow, DDS
Mike Riffel
Silver ABWA Bells Chapter
Ada Twenter
Mr. & Mrs. W.D. Vasse
---
Contributions
The Health Foundation is solely supported by private donations and various fund-raising activities to address the health care needs of the area. Make your tax-deductible contribution today by mailing your check to Moberly Regional Health Foundation, P.O. Box 3000, Moberly, MO 65270.