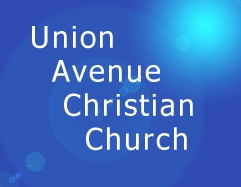 " . . . for the Cause of Christ!"
Union Avenue Christian Church
411 Union Ave
Moberly, MO 65270
Phone Number: (660)-263-4168
Click here for more information located on our alternative website!
Service Times
Sunday Worship: 8:15 a.m. & 10:45 a.m.
Sunday School: 9:30 a.m.
| | |
| --- | --- |
| | Click for a brief summary of Union Avenue Christian Church's beliefs. |
| | Click for a list of the missions Union Avenue Christian Church supports. |
| | Click for a list of Sunday school classes available. |
THE MOVEMENT TODAY
The Christian churches and churches of Christ in America today function through these kinds of ministries:
About 5,500 local churches with a total membership of over one million.
38 colleges and seminaries, mostly Bible colleges, which educate and train the preachers, teachers, and missionaries.Over 6,000 students are enrolled.
[There are about] 1,000 foreign missionaries, serving on six continents.
National conventions, which meet annually for preaching and fellowship but do not have any authority over churches, ministers, or missionaries.
About 1,000 other agencies: benevolence, church camps, children's and nursing homes, radio and TV programs, evangelistic minitries, publishing houses, and others.
(Source: James B. North)


Last Update 5-23-2000
Union Avenue Staff Information
| | | |
| --- | --- | --- |
| Doug Delp | Senior Minister | uacc@cccb.edu |
| Allen Todd | Youth Minister | uacc2@cccb.edu |
| Mary Green | Children's Minister | mgreen@cccb.edu |
| Ron Self | Elder, Music Minister | rself@moberly.k12.mo.us |
| David Fincher | Music Minister | dfincher@cccb.edu |
| Irene Pelfrey | Secretary | irene@cccb.edu |
| Dawn Beaverson | Financial Secretary (Receivables) | dawn@cccb.edu |
| Penny Henry | Financial Secretary (Payables) | henry@missvalley.com |