What does your business need?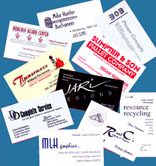 A way to get your customers' attention? Melanie at MLH graphics wants to help your business stand out and look good.
MLH graphics can add

to your existing image, design letterhead, brochures, menus, newsletters and other printed materials, design your web page or give you a whole new marketing look.
Feel free to browse these pages for more information on the services MLH Graphics offers.
Call us toll free today at
888 816-1202
or email us at mlh@mcmsys.com